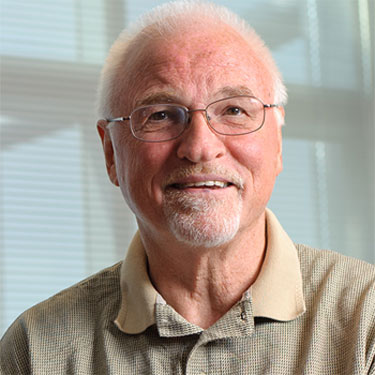 Don Resio
Professor | Director
Taylor Engineering Research Institute
College of Computing, Engineering & Construction
Areas of Expertise:
• Coastal & Ocean Engineering
• Meteorology
• Hydrodynamics
Education:
• Ph.D. in Environmental Science: Fluid Dynamics, University of Virginia, 1974
• M.A., University of Virginia
• B.A., University of Virginia


In July 2011, Dr. Resio joined the faculty at the University of North Florida as a Professor of Ocean Engineering and as the Director of the Taylor Engineering Research Institute (TERI). In this new position, he expects to continue his research activities and hopes to attract interested students to this exciting field of work. Key elements of his work at UNF will be teaching courses, developing a new curriculum for an advanced degree program in Coastal and Estuarine Engineering, and building a world-class team of faculty members to work with him in developing improved information, insightful identification of problems and innovative problem solutions for those us living in coastal and estuarine areas.
Dr. Resio served as the Senior Technologist for the US Army Corps of Engineers Coastal and Hydraulics Lab from 1994 to 2011. He directed the Army's program for joint theater and post-disaster access, under which a new class of expedient bridging was developed to allow rapid access to coastal, estuarine and riverine areas under austere/degraded conditions. He is a recognized leader in the meteorology, hydrodynamics and probabilistic analysis of environmental hazards in coastal, estuarine, and riverine areas. He served as a co-leader of the post-Katrina Inter-agency forensics study and subsequently became the leader of the Risk Analysis team for the South Louisiana Hurricane Protection Project. This team developed a new technical approach for hurricane risk assessment now being used along all US coastlines which is also being extended by the Nuclear Regulatory Agency for new licensing guidelines at coastal sites. Under the Homeland Security Advanced Research Project Agency, Dr. Resio led a team of researchers in the development of innovative methods for the rapid repair of levee breaches. This work offers new options for improved flood mitigation in many areas of the United States.
Awards
2014- Certificate of Appreciation for Outstanding Service -the National Research Council of the National Academies
2013 - Am. Society of Civil Engineers' Coasts, Oceans, Ports and Rivers Institute -Intl Coastal Engineering Award
2013 - NorthEast Florida Engineers Week - Professor of the Year Award
2011 - Department of the Army Distinguished Civilian Service Award
2008 - Engineering News Record Award of Excellence – McGraw Hill
2007 - U.S. Army Corps of Engineers Researcher of the Year Award
2007 - Engineer Research and Development Center Researcher of the Year Award
2007 - Engineer Research and Development Center Program Development Achievement Award
2007 - Department of the Army Meritorious Civilian Service Award
2007 - Chief of Engineers Award for leadership role in Interagency Performance Evaluation Taskforce
2006 - Engineer Research and Development Center Research and Development Achievement Award
Member Affiliations
ASCE
American Meteorological Society
American Geophysical Union
Army Engineer Association
Delegate to:
U.N. Joint Committee for Oceanography and Marine Meteorology
Co-chair of UN World Meteorological Association Coastal Inundation Forecast Demonstration Project
Co-organizer of bi-annual international meeting on ocean waves and risk assessment
Grants and Contracts Awarded
2014-2015. Independent investigation of the methodologies utilized to determine coastal hazards along the Great Lakes for the National Flood Insurance Program. Department of Homeland Security and UNC – Chapel Hill. $ 62,780.00
2014-2015. Joint probability optimal sampling method for tropical storm surge frequency analysis. FEMA and Baker AECOM project amount of $ 34,983.00
2013-2015. Efficient Multi-scale Computation with Improved Momentum Flux Coupling via Operator-Splitting and Probabilistic Uncertainty Quantification. Department of the Army and Jackson State University. $103,127.00
2013-2014. Tsunami & Storm Surge Hazard Assessment at Nuclear Power Plant Sites in the United States. Nuclear Regulatory Commission. $134,970.00
2013-2014. Center for Natural Disasters and Coastal Resilience. Department of Homeland Security and Taylor Engineering. $ 74,999.00
2013-2014. Flooding Evaluations for PSEG Salem and Hope Creek Plants. Funded by PSEG and Atkins Global in the amount of $ 42,012.00
2012-2013 Improved Source Term Formulation for Improved Evolutionary Characteristics of Directional Spectra. Office of Naval Research. Project contract amount of $ 218,676.00
2012. Northeast Florida and Georgia Storm Surge Study. FEMA & Baker AECOM. $14,360.00.
2011-2012. Independent Technical Review of the South Texas Plant Units 3 & 4 Storm Surge Analysis. Nuclear Regulatory Commission. Project contract amount of $11,088.00
2011-2012. Wind and Pressure Fields Project in Support of STARR's Modeling of Flood Levels on Lake Huron. (FEMA) Project amount of $36,070.00

Michelle Vieira
Ms. Vieira's graduate education at the University of North Florida in the Taylor Engineering Research Institute emphasized port and harbor engineering, coastal and estuarine hydrodynamics, and water wave mechanics. Her thesis focused on the proposal and the prototype of an innovative tidal power generation system. This graduate work resulted in both U.S. and international patents granted. Upon graduation, she joined Taylor Engineering's coastal engineering group where she has gained experience with coastal engineering analyses in support of climate adaptation strategies for coastal communities, resilience planning, shore protection economic benefits, remote sensing, beach nourishment design and permitting, and other issues.

Brian Kopp
Brian received his BSEE, MSEE, and Ph.D. from New Mexico State University while working first as a co-op student and then later an engineer at the White Sands Ground Terminal (WSGT) of the NASA Tracking and Data Relay Satellite System (TDRSS). His Ph.D. research on space communications was conducted for the NASA Goddard Space Flight Center through the NMSU Manuel Lujan Jr. Space Tele-engineering Program.
In 1995, a year after leaving NMSU and working briefly for the US Navy at the Naval Undersea Warfare Center in Newport, Rhode Island, Brian, along with another fellow NMSU alumni, co-founded Wireless Scientific, Inc. in northeast Florida. This high-tech start-up manufactured spread-spectrum wireless data modems for industrial markets and introduced an explosion proof unlicensed wireless data modem to the petro-chemical industry.
After selling his interest in Wireless Scientific, Brian became a telecommunications consultant. Some of his consulting projects have involved satellite communications and also public safety communications, but most of his clients have been associated with the transportation industry, including more than a dozen commuter railroads and state Departments of Transportation clients from across the country. His projects have touched on almost every form of commercial communication technology, from satellite to cellular, from fiber to wireline, and from microwave to land mobile radio.
In 2011, Brian reduced his consulting work load and became an adjunct electrical engineering Professor at the University of North Florida (UNF). Three years later he joined the faculty at UNF full-time. Brian brings 20 years of industry experience to the classroom and is very glad to be able to give back a little of what he has learned. At UNF, he has also started the Advanced Telecommunications Research Program with the goal of getting students involved in new and exciting research in wireless communications, in particular satellite communications. His research interests are focused on wireless communications and on collaborating with other UNF engineering faculty to identify new and exciting solutions to difficult cross-discipline engineering problems.
Brian lives with his wife Krittaya, a registered nurse, and daughter Irada, in Jacksonville, Florida. Brian is also very active in the amateur radio community and worked with students to start the UNF amateur radio club – call sign N4UNF.